SEARCH ENGINE OPTIMIZATION
The most important SEO goal is to place your website at the top of the search results for the chosen keywords. Regardless of whether you offer your customers services or goods to reach them, they have to be able to find you. Nowadays practically anyone who is looking for any product, their first steps are directed to an internet search engine (eg Google) and they really rarely pay attention to what's ahead of the first page of search results. Increasing your visibility on the Internet will become a significant increase the number of your potential customers and will increase your profits. In FrostSEO we are focused on a long-term increase of visibility, which is backed up by systematic action in this direction. For our clients we offer a fixed monthly subscription plan. Thanks to this billing model we are able to provide comprehensive and secure SEO services. By choosing FrostSEO's services you can be assured that all of our methods comply with the policies that Google imposes and will not expose your site to any consequences.
SEO SERVICES WITH FROSTSEO – HOW IT WORKS?

How does it look in practice? The first step is the free evaluation of our services. After sending us the form in which you describe your business profile, FrostSEO will contact you and provide you with a special offer.Remember that simply sending a free quotation request does not oblige you to anything. You do not have to buy our products and services,do not be afraid that you will need to pay for SEO or other services. Only when you make a phone or e-mail decision to provide SEO services you will receive the relevant documents and then we can start working.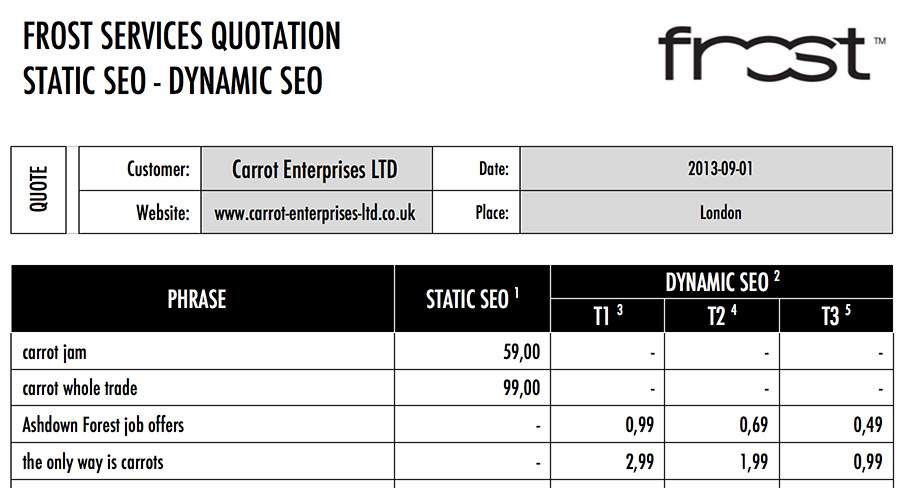 Free Quote
What is your website address?
If you don't have a website or simply prefer for us to call you back,
Click Here
STEP 1: SEO AUDIT
Once you have sent us a request, we will do a comprehensive analysis of your website to prepare the appropriate offer. In our prepared document you will find relevant information for you and for us about your entire website: about its strengths and weaknesses, about what should be improved in its functioning. SEO audit is the first step towards optimizing a website, without which other steps would make no sense. Implementing an SEO audit will help us determine if and how your site was previously optimized and which direction we should take. All the documents we create are backed up by knowledge and experience, and also work using the latest SEO analysis software. This way you can be sure that you are getting a reliable and professional service.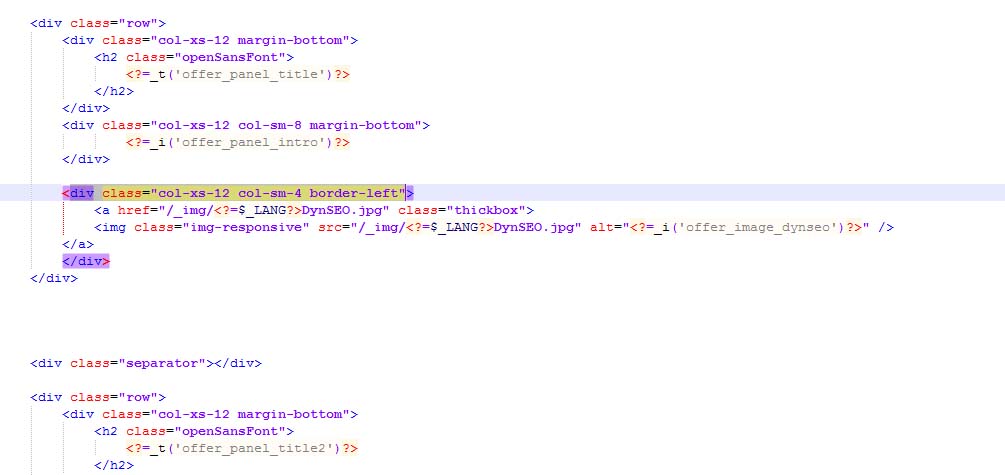 STEP 2: CODE AND CONTENT OPTIMIZATION
What is optimization anyway and what does it do? Well, optimization is done inside the website code, so it is always better to outsource such work to someone who knows about it and does not cause unnecessary damage. It consists in streamlining the website source to include all elements that help in positioning, such as: code snippets for navigating the site and indexing it, highlighting properly selected keywords, properly written titles and subheadings, or improving navigation within our website. The optimization process also includes the insite content optimization, which is also extremely important. Thanks to good optimization your site will be friendly not only for search engines and robots, but also for users. Just doing the optimization alone will allow your website to raise its position in search results. Always pay attention to who you commission the optimization of your website, because it is very easy here to make a mistake that can contribute to the reverse effects than expected. Many years of experience and knowledge of our SEO specialists ensures that the optimization made by FrostSEO will be correct and will be written in a way that will allow your website to change its position. And as with the later SEO services, we also use only Google recommended methods to optimize your site so your site is not exposed to the filters. You will enjoy high rankings on the Internet. Depending on the selected SEO package the price for optimization may be different.
STEP 3: SEO
SEO is a whole series of activities that will help your website to be on top of search results so you have to keep in mind that this is not an immediate process. So just as an athlete is practicing for months and even years to achieve a result - so we also need time for our actions and results flowing from them. We also have to point out that neither we nor any other SEO company will guarantee you specific results, only forecasts. Why? The answer to this question consists of several significant factors. The first thing is that no SEO company controls the search results, but only affects their result through their actions. Another issue is competition - both yours and ours. We do not know exactly what action will be taken or whether other companies will work on your competitors websites. We do not know if their actions are fair, but even if they are, we are never sure what methods they use. Of course, Google also has a very strong influence on SEO, which is constantly changing and sometimes it is necessary to change the positioning strategy by 180 degrees. So why some SEO companies guarantee concrete results? We can safely say that this is a cheap marketing trick aimed at the client. In FrostSEO, the customer is most important to us, so we would never dare give false information or false promises.
MONITOR YOUR CAMPAIGN
Afer signing up with FrostSEO, you will be granted acces to our Customer Panel. It will allow you to manage all the services active on your account. For Dynamic SEO phrases, you will be able to browse monthly statistics, which show how the position of your website for a given phrase was changing over the previous billing period.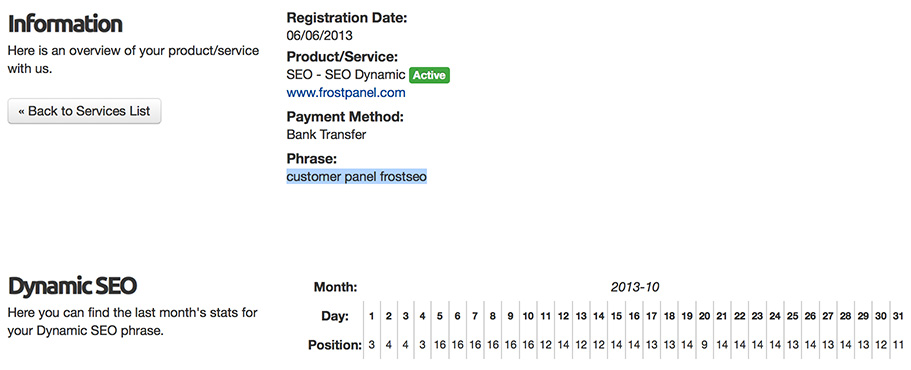 MANAGE YOUR PAYMENTS
Customer Panel will also provide you with billing management. From one page you can access and download all the invoices that have ever been issued to your FrostSEO account. Our system will calculate your total Outstanding Balance, and for the authorized Cusomers, it will accept online payments with Credit Cards and PayPal.

GET IN TOUCH WITH US - 24/7
We know that even the best product needs a support system, which will provide the Customer with answers to all the questions they might have along the way. That is why, we are giving you direct access to the very SEO specialists that work with your website. At any time you can get in touch with them, using the panel's Tickets system. We guarantee you are going to hear back from them as soon as possible.